DAYONIX PHARMA IN VITAFOODS EUROPE 2018 THE GLOBAL NUTRACEUTICAL EVENT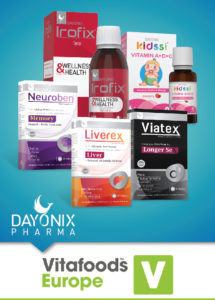 Vitafoods 2018  Booth : L82 
May 15 – May 17
The global nutraceutical event of Vitafoods Europe 2018 will be hosted by Dayonix Pharma at booth L82 from May 15th to May 17th this year.
Vitafoods Europe 2017 was a perfect platform for Dayonix Pharma to present its offering at the leading essential event for the global nutraceuticals industry. New for 2018, this interactive feature offers another unique opportunity to come together with peers in an informal setting to share best practice and discuss solutions to key challenges facing the industry.
Vitafoods Europe is the annual event where the global nutraceutical supply chain come together to improve their business. Providing the perfect platform for generating new business and building constant relationships, Vitafoods Europe is one of the major dedicated events covering the industry's four key areas; Ingredients & Raw Materials, Contract Manufacturing & Private Label, Services, Equipment & Machinery and Finished Products.
This global event brings together 18,000+ senior buyers, 1,100+ of the most innovative global suppliers, and 21,000+ senior decision-makers who are looking to source nutraceutical ingredients and raw materials, services and dietary supplements from businesses like ours.
Join us at Dayonix Pharma, Vitafoods Europe from 15 to 17 May, 2018.
We'll welcome you at booth L82 of Palexpo, Geneva, Switzerland.